What is
Account-Based Marketing?
Account-based marketing (ABM), also known as key account marketing, is a strategic approach to business marketing based on account awareness in which an organization considers and communicates with individual prospect or customer accounts as markets of one.
Rather than launching a broad marketing campaign that attracts thousands in an attempt to nurture only the few that express their interest, ABM targets specific companies in a bid to engage with key decision makers and then build on that relationship to open up new sales opportunities in the future (also known as "land and expand").
Put simply, account-based marketing takes the traditional marketing funnel and flips it upside down!
Benefits of Account-Based Marketing
It's personalized to your audience.

It's easier to see potential return on investment.

You spend less time on marketing campaigns that don't yield new business.

It shortens the sales cycle.

It fortifies your relationship with existing clients.
ABM Assessment

Strategy And Planning

Account List Segmentation

Buying Persona Matching

Customer Journey Mapping

Engage

Inbound Marketing

Direct Marketing

Traditional Marketing

Land and Expand

Nurture

Delight

Close

Referral
50 Marketing is now HubSpot Certified:
We deliver inbound marketing services like content creation, SEO,
and marketing automation with HubSpot's platform.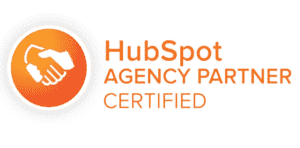 HubSpot Account-Based Marketing Automation
How can HubSpot help you master your Account Based Marketing strategy?
An enriched CRMThe free HubSpot CRM makes it easy to manage your key accounts. Add a single contact, and HubSpot will automatically populate all the information it can find on that contact's company and connections. What's more, marketing and sales activities are seamlessly tied to the CRM, so there's always a clear record of a contact's history. When every interaction is accounted for, you can ensure that relationships are handled with care. Never over-communicate, and never let anything fall through the cracks.
Sales and marketing tools that work together
HubSpot Sales and HubSpot Marketing work together so that you can successfully nurture your key accounts. The sales tools help you send personal 1:1 messages to your biggest advocates, while the marketing tools help you establish your footprint and build credibility in your industry.
ACCOUNT-BASED REPORTING
In HubSpot you can report on the growth of companies over time, track company-level revenue, job titles, engagement levels, and more ---- all at the account level.
Representative Client List
Clients in 32 States
With Clients in 32 states and counting, 50 Marketing provides marketing, advertising, and digital services that are successful across geographies, industry types, and markets. Learn how 50 Marketing can help you grow.
Are you ready to GROW YOUR BUSINESS?