Proposal automation for fast, error-free sales documents and a more productive sales team.
Your sales team is wasting too much time hunting down the right content. Reps are fumbling around with copy/paste, formatting, and hacking together documents. Proposals are off-brand and inconsistent, but Sales can't afford to wait for Marketing to design one for every deal. And the approval process is either non-existent or creates deal-killing bottlenecks.
Sales Growth is a challenge for any organization.  Getting proposals out the door that close sales should not be one of the many hurdles to growing sales.  Proposal Automation is key to growing your business and ensuring consistent and quality representation of your company, products, and services during the sales process.
Time Savings to Send out proposals:
Save up to 95% of the time it takes to generate a proposal once you have automated the process.
50 Marketing is a Proposify Certified Partner.
We are here to propel you to success by leading you to a new era of streamlined sales.
Proposals with esignatures are 3.4x more likely to close than those without. Deals also close 32% faster with esignatures.
Proposal Questions and Answers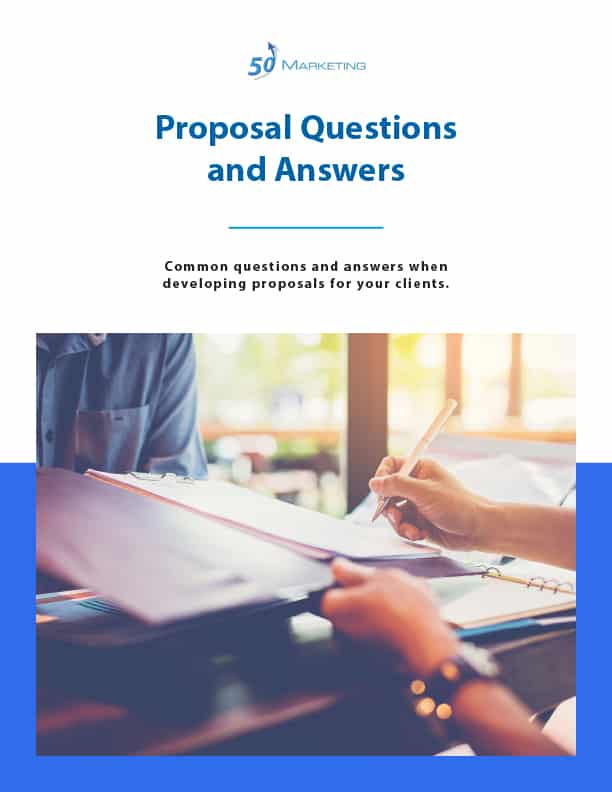 Common questions and answers when developing proposals for your clients. 
Proposals are utilized by businesses great and small. The delivery of one to a potential customer is one of the most important steps in the sales cycle. We've examined the anatomy of the perfect proposal and offer a ton of tips and advice so your next proposal has what it takes to seal the deal.
Proposals with client input forms close 65% faster than those without.
Representative Client List
Clients in 32 States
With Clients in 32 states and counting, 50 Marketing provides marketing, advertising, and digital services that are successful across geographies, industry types, and markets. Learn how 50 Marketing can help you grow.